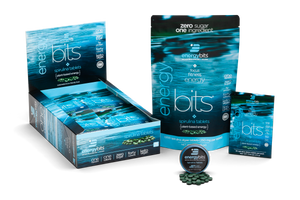 Algae Bits
---
ENERGYbits® algae tablets are an organically grown, Non-GMO plant-based replacement for supplements, snacks or sports nutrition.
We refer to our tablets as "bits" because they are keto, vegan bits of food that can be swallowed or chewed on the run, prior to a workout, instead of a meal or to support intermittent fasting.
Our tablets have one ingredient, 60% protein, forty vitamins and minerals but no sugar, chemicals, caffeine or toxins and improve client outcomes naturally through concentrated, unprocessed, nutrient-dense plantbased nutrition.
The United Nations and NASA endorse algae as the most nutrient dense, high protein food in the world that improves energy, focus, longevity, athletic performance, boosts the immune system; removes toxins, reduces inflammation, speeds recovery, reduces chronic disease, stops hunger and more.
The ten-year old company is based in Boston and the only algae company endorsed by chiropractors (e.g. Dr. Dan Pompa), keto scientists (e.g. Dr. Dominic D'Agostino), nutritionists (e.g. Dr. Nicole Avena), biohackers (e.g. Dave Asprey), functional medicine practitioners (e.g. Dr. Will Cole) and fitness professionals (e.g. Ben Greenfield).
---
Sorry, there are no products in this collection.